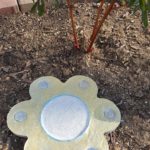 Butterfly Puddlers
Butterflies can get water from nectar plants, but need a wet sandy place to obtain the minerals they require. This process is referred to as "puddling." Having a rock or flat stone around the sand provides a landing spot for butterflies and also a place for them to stop spread their wings and recharge.
How to use Puddlers
1) Fill the center indentation of your puddler with sand.
2) Add a little water to the sand to make it moist.
3) Place your puddler in a sunny place near butterfly friendly flowers.
4) Empty sand and rinse stone (or saucer) as needed.
Puddlers Can Also be Used for Bees
Bees need water, but bird baths and fountains are often too deep for them. Since puddlers are shallow, they are the perfect size and shape.
Individual Butterfly Puddlers for Sale
Butterfly Habitat Kits for Sale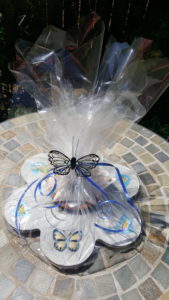 To Purchase
If you are interested in purchasing a butterfly puddler or butterfly habitat kit, please contact Allison Foster at allison@mybackyardoasis.com.